Gunman robs betting shop at Grangetown, Cardiff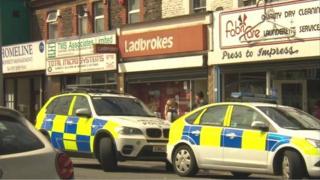 An armed robbery has been carried out at a betting shop in Cardiff.
A masked man with a handgun threatened a lone worker before escaping with cash at Ladbrokes in Clare Road in the Grangetown area.
South Wales Police said the gunman escaped into a back lane and in the direction of Havelock Place after the incident at about 09:50 BST.
Armed officers and the police helicopter were sent to the area as the search for the suspect began.
Police are appealing for witnesses to call them on 101 or Crimestoppers anonymously on 0800 555 111 quoting occurrence *206981.