Cardiff Airport shuttle bus deal in 'urgent' re-tender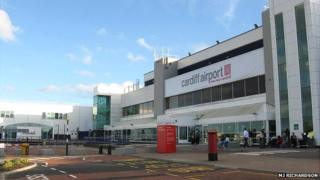 The Cardiff airport shuttle service is to go back out to tender "as a matter of urgency," after bus operator First Cymru said it would stop running it.
Vale of Glamorgan council said it will re-tender the contract on behalf of the Welsh government to keep the service running without a break from 16 August.
A review found the shuttle started in April 2013 had achieved all that was expected of it but recommended changes.
Cardiff Airport was bought by the Welsh government for £52m in March 2013.
The bus runs every 20 minutes from the airport at Rhoose to the centre of Cardiff.
The council said it will work to ensure the new contract meets the recommendations of the review.
A First Cymru spokesperson said it had de-registered the T9 service as its contract reaches the end of its agreed term on 16 August but added that it was a "normal procedure".
He added: "The original short term contract was extended to this date, while the Welsh government completed its review of the service.
"Some changes are, we believe, due to be made to the T9 Service (taking into account the findings from the review) and as such the contract is due to be re-let.
"We will, of course, be bidding for this work and hope to secure it."