Three jailed over manslaughter of John Reeder from Pontypool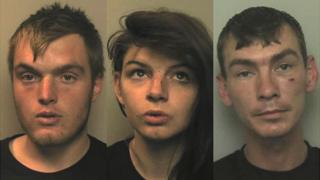 Three people have been jailed over the death of a cyclist after they attacked him when one of them claimed the man had molested her.
John Reeder, 63 from Pontypool died from head injuries after being pushed from his bicycle in August 2013.
Deon Morgan, 20, Andrew Vass, 26, had denied his manslaughter. Casey Coslett, 20, pleaded guilty.
A Cardiff Crown Court judge jailed Morgan and Vass for five years. Coslett will serve three years and nine months.
'Get him'
The trial had heard Morgan had hunted down Mr Reeder, 63, after accusing him of sexual assault.
However jurors were told Morgan was out to get Mr Reeder because he had made a complaint to her youth hostel just days before after she attacked him at a house party while drunk.
She and her boyfriend Vass chased Mr Reeder through the street after spotting him on his push bike.
She was seen moving "like a goal-keeper" from side to side with her arms outstretched.
Mr Reeder, a former horse trainer, had pedalled in sheer panic to try to get away from the drunken pair, the court heard.
He managed to evade Morgan and Vass and was travelling quickly down a hill on the A4043 when he was "pushed or grabbed" by Coslett after Morgan said to "get him".
Prosecutor Tim Evans said: "There had been growing animosity between Mr Reeder and Deon Morgan.
"Morgan had made an allegation against Mr Reeder which he denied."
Judge Eleri Rees said Morgan had instigated the attack and had recruited her friends.
'Damaged'
The court heard Morgan had had 34 different foster homes as a child.
The three had been chasing Mr Reeder on his bicycle the previous day, leaving him "stressed" and "anxious".
Judge Rees said: "There's no doubt you've been damaged by your physical and emotional experiences as a child. If it weren't for that your sentence would be a lot longer.
"The three of you lay in wait for Mr Reeder. The three of you knew perfectly well he'd be afraid of you because of what happened the night before."
She added: "Mr Reeder had been accused of sexually molesting Deon Morgan.
"It's quite clear Mr Reeder vehemently denied this allegation and protested it to anyone who would listen."
The judge said they could not have anticipated "the catastrophic effects of your actions".