D-Day: Veteran David Edwards solves photo mystery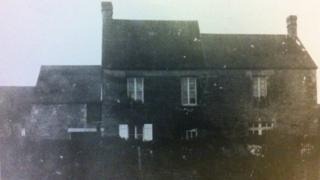 In June 1944, in the orchards of Normandy, David Edwards spotted a photograph lying in the rubble of a building.
As part of 2 Monmouthshire Regiment, one of 160 (South Wales) Brigade's infantry battalions within 53rd (Welsh) Division, he was in Mondrainville, near the city of Caen, helping to liberate France after D-Day.
He kept the black-and-white image of a farmhouse as a souvenir, unaware it would help form a friendship with the town, its residents and eventually lead to a school being named after him.
Mr Edwards, from Abergavenny, has returned for the 70th anniversary of D-Day, with hundreds of other veterans, with a story of how a single photograph has kept the spirit of 1944 alive in an extraordinary way.
In 1986, Mr Edwards and his fellow veterans Tom Griffiths and Edward Chapman returned to visit the area they had battled with snipers and tanks to force the Nazi forces out.
Mr Edwards took the photograph and was determined to find the house they had sheltered in 42 years previously.
But after failing to find it, the men stopped for coffee with a family whose garden they passed.
"I got my photograph out of my pocket and said we're looking for this house," Mr Edwards said.
"He looked at it and I could see he was puzzled and then he showed it to his mother and his mother got excited.
"She said to my pal, who could speak French, 'it's my house and if he wants he can reach out and touch it'.
"And I could," he said.
They had found the house.
Jean Louis Le Goffe, who now owns he house, said there is always "big emotion" whenever Mr Edwards visits.
"It was a beautiful story and it was the beginning of the relations between inhabitants of Mondrainville and Abergavenny and it was also the beginning of the story between our schools," Mr Edwards said.
He and his late friends arranged exchange visits between primary schools in Wales and Normandy with help from the Le Goffe family.
And the project was such a success, a school was named L'ecole Edwards Griffiths in honour of the two men.
Head teacher Caroline de Pechy, whose school maintains links with Llanyrafon Primary in Torfaen, said Mr Edwards has fascinated pupils with war stories.