Julian Riley's 'vengeful' flour attack on neighbour's car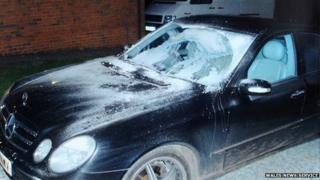 An undertaker caused hundreds of pounds of damage to a neighbour's car when a bag of flour he threw over it set "like cement".
The flour dried on the paintwork of Peter Elliot's Mercedes after it rained, Newport Magistrates Court heard.
Julian Riley, 39, of Abergavenny, admitted criminal damage but contested the cost of the damage.
He said he was angry the car prevented him getting his hearse into work.
The court heard the neighbours had argued over parking for weeks before the incident in September last year.
Riley emptied the bag of flour over Mr Elliot's car not suspecting it would cause such severe damage.
He told police: "Unfortunately, I was very annoyed and took the law into my hands and threw a packet of self-raising flour over his car."
'Spiteful and vengeful'
Mechanics at a specialist garage found the "crystallised" flour had damaged the bonnet, windscreen and was also stuck around the heating ducts and filtration system.
They told Mr Elliot they could not remove it all without scratching the car, and the repairs would cost £7,397.
Riley pleaded guilty to criminal damage but contested the cost of the damage.
He went to a second specialist who estimated the damage was around £400.
District Judge Richard Williams described the incident as a "spiteful and vengeful offence" and adjourned sentence until next month.
After the hearing Mr Elliot said: "There's only one loser here and that's me. I can't understand why I should have to pay for this damage."