Police investigate death of Ysbyty Cwm Cynon patient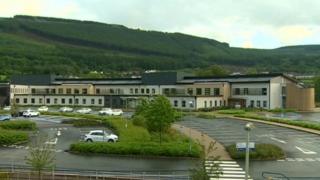 Police are investigating the death of an 88-year-old woman who was found with "serious and unexplained" injuries at a south Wales hospital.
Ten staff at Ysbyty Cwm Cynon in Mountain Ash were originally suspended as a precaution, but the measure has now been lifted for six of them.
The patient, Tegwen Roderick, of Abercanaid, Merthyr Tydfil, was found with the injuries last Thursday.
She was transferred to Merthyr's Prince Charles Hospital but died on Wednesday.
Chief executive Allison Williams said staff "acted quickly and appropriately".
"In investigations such as this, staff may be suspended as a precautionary measure," she said.
"As is normal practice in any investigation such suspensions are reviewed on an ongoing basis.
"We can confirm that six suspensions have already been lifted today and arrangements are being made for those staff to return to work. We will continue to review the remaining suspensions as the investigation proceeds."
Four people are helping police with their inquiries and a post-mortem examination is under way.
The woman's injuries were found at Ysbyty Cwm Cynon during what the health board called routine patient care at around 09:40 BST last Thursday.
They were described by police as serious and she was transferred to the much larger Prince Charles Hospital in Merthyr Tydfil
On Wednesday, it was confirmed she had died.
The exact nature of her injuries has not been revealed and have been described as unexplained by police.
Officers have also said that there was no confirmed link at this stage between the injuries and her death.
It is understood the hospital will continue to be fully staffed and no services have been affected.
'Heartfelt condolences'
---
Former mayor of Merthyr, Derek Games, described Mrs Roderick as a "beautiful lady".
He said she had lived in Donald Street with her husband John, and they were a devoted couple.
---
A health board spokeswoman said: "The health board extends its heartfelt condolences to the family at this very sad and difficult time."
Cynon Valley AM Christine Chapman said she was very concerned that there had been a death but the health board had reassured her that no other patients were at risk.
Peter Meredith-Smith, associate director of the Royal College of Nursing Wales, said it was not unusual for staff to be suspended as a precaution when there were concerns about clinical care.
"In such situations more often than not, suspended staff return to work quickly. It's a proportionate and precautionary action. I am confident the local health board and police will be working swiftly and rigorously to conclude their investigations," he said.
Ysbyty Cwm Cynon, which opened in 2012, has a minor injury unit, maternity facilities, a dental teaching facility and six wards which provide rehabilitation services, older people's mental health services and palliative care.
It also houses the local GP out-of-hours service.