Jury in Newport 'revenge' shooting trial goes home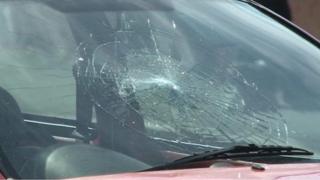 A jury considering verdicts on four men accused of attempted "revenge" killings has gone home for the night.
Lewis Bridge, Brogan Hooper, Gary Rabjohns and Ryan Battersby allegedly ran a car off the road, and shot at the three people inside.
The attack happened on Chepstow Road, Newport, in September 2013.
All four, from Newport, deny three counts of conspiracy to murder and three counts of conspiracy to cause grievous bodily harm.
Mr Rabjohns also denies an act intended to pervert the course of justice.
During the trial at Newport Crown Court, the jury was told the attack was an attempted "revenge killing" to get back at two of the victims who had allegedly robbed Mr Hooper at gunpoint of drugs and money.
The prosecution claim the four men used a 4x4 vehicle to ram the victims' red Ford KA off the road, and then shot twice at the woman and two men inside, with a shotgun.
The car crashed into the wall of the Cross Hands pub on Corporation Road.
Mr Rabjohns and Mr Battersby said they were somewhere else during the attack.
Lewis Bridge, the cousin of one of the victims, said he was in the vehicle at the time, but knew nothing about the shotgun and said he "just thought there was going to be a fight".
After the alleged shooting he said he thought the occupants of the KA were "all dead".
Mr Hooper, who was arrested at Cardiff Airport after returning from a holiday, said he was in the vehicle, but was not aware the gun was in the car, or that there was a plan to run another car off the road.
The defendants deny all the charges and the jury will continue deliberating on Wednesday.