Abandoned horses in Llantrisant could be sold in crackdown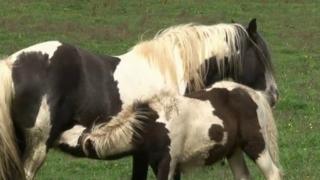 Abandoned horses found on common land in a south Wales community will be rounded up and sold at auction if owners cannot be traced, say officials.
Llantrisant Town Trust was due to start checks on Sunday amid concerns about animals grazing on its land and nearby Graig Mountain.
It said they are sometimes abandoned when owners cannot afford to keep them.
From April it introduced a micro-chip scanning system to identify the horses and their owners.
It said rules state horses must carry a small implant which contains unique information.
The details are stored on a computerised database which links the owner to the horse.
Since 2005 horses have required animal passports to allow them to be sold or moved.
Llantrisant Town Trust is a charity manage the rights and land under the ownership of the freemen of the town.
Trustee Huw Rees said: "As the largest landowner in Llantrisant we have an obligation to the freemen and residents that we do all in our power to ensure the very best management of its extensive lands.
"It is simply not acceptable for horses to be introduced onto the common and left there, particularly as the winter rapidly approaches us."