Torfaen considers monthly black bin collection plan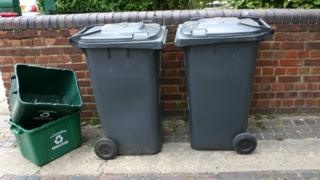 Black bin bag collections once a month are being considered for residents in Torfaen as the council looks at ways to avoid fines of up to £600,000.
The local authority says it needs to up its recycling rate from 52% to 58% to meet new Welsh government targets.
Other options include keeping the current fortnightly wheelie bin collection or a change to limiting households to two refuse bags each.
Last month Gwynedd council agreed to move to three-weekly collections.
Councils in Wales faces fines of £100,000 for every 1% they fall below the recycling rate targets introduced by the Welsh government for 2015/16.
Torfaen council collects around 40,000 black bags every two weeks but the local authority says it must do more if it is to escape the potential fines.
'Not enough'
Councillor John Cunningham, executive member for neighbourhood services, said: "We have to make reductions in the amount of waste we are sending to landfill and although we have introduced collections for green waste, food and cardboard, recycling rates have only risen by around 9% in the last five years.
"This is simply not enough and as well as improving our recycling services, as we have done recently with extended plastic collections, like other councils across Wales we are going to have to restrict the amount of residual waste we collect."
A consultation is to be held on the move.
Gwynedd council became the first in Wales to agree a three-weekly collection cycle.
The new system approved last month will start in certain areas in October.