Vandal-hit Pontypool RFC gets CCTV to tackle crime wave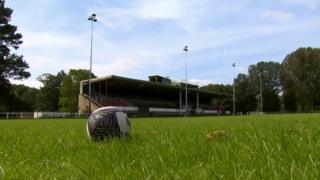 A south Wales rugby club plagued by anti-social behaviour has had CCTV installed in a bid to deter vandals.
Pontypool RFC, based at Pontypool Park, has been the target of several arson attacks, and has had needles, screws and glass planted on the pitch.
Its scoreboard has been broken and seats have been ripped out of the stands in a string of incidents over the past year.
The club hopes the CCTV would help make the park safer for everyone.
The council said it agreed to install the cameras because the "sustained anti-social behaviour" over the past year was becoming a health and safety concern.
The cameras will cover the grandstand and the playing field area and will be linked to a monitoring station from where staff can report any incidents to police.
The installation of the system, and the cost of monitoring for two years, is £13,000 which will be paid partly by the club.
A Torfaen council spokesperson said it hoped the CCTV would deter acts of anti-social behaviour and said it would continue to investigate the feasibility of the club's request for the site to enclosed.
Ben Jeffreys, corporate director of Pontypool RFC, said: "This is a major victory particularly for the club's volunteers who have suffered the consequences of this anti-social behaviour for far too many years.
"We hope they can now conduct their duties with more peace of mind knowing that we are doing all we can to eradicate the dangers they regularly encounter on a match day."
The club, which became famous in the 1970s for its stars Charlie Faulkner, Graham Price and Bobby Windsor, was a week away from folding in 2012 after it was left with a £100,000 legal bill following a failed bid to overturn the Welsh Rugby Union's decision to demote them from the Welsh Premier League.
But it was saved when life-long fan Peter Jeffreys' donated the money.