Nurse David Kwei's sex calls from murderer mother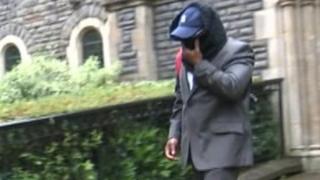 A mental health nurse who had phone conversations of a sexual nature with a murder suspect has been cautioned for misconduct.
David Abbey Kwei admitted inappropriate ongoing contact with the woman, who was later jailed for 17 years for killing her seven-year-old son.
The woman told Mr Kwei she loved him during several phone calls, a hearing in Cardiff was told.
The panel ruled his fitness to practise had been impaired.
A Nursing and Midwifery Council (NMC) hearing was told Mr Kwei was working at a secure mental health ward at Llanarth Court Hospital in Raglan, Monmouthshire, at the time the calls were made.
The woman, known as Patient A, was held there from September 2010 under the Mental Health Act while awaiting trial for murder.
Later, while in prison, she made 27 phone calls to Mr Kwei's direct line, including three calls between 28 and 31 December 2012, which contained "sexual innuendo", the tribunal heard.
Transcripts of the calls showed Mr Kwei had asked the woman if her calls were being monitored or recorded.
He was later dismissed from the hospital.
'Made mistakes'
Mr Kwei admitted his relationship with the woman went against all his training as a mental health nurse.
"My duty as a registrant is to act openly and uphold the reputation of the profession and I wasn't behaving professionally with my conversations," said Mr Kwei.
"This isn't the first patient I've been in contact with after they've been discharged.
"There were no policies saying I couldn't do that, but I can't use that as an excuse."
Mr Kwei said he had attended professional development courses after being dismissed from Llanarth Court.
He now works at Rushcliffe Independent Hospital, near Swansea, and said he tried to act professionally at all times.
He admitted he made a mistake, but said he would never make the same one again.
The NMC panel found Mr Kwei's fitness to practise had been impaired by his misconduct but allowed him to continue working as a registered nurse.