Protest planned ahead of Nato summit in Newport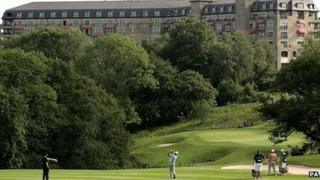 There are plans for a large scale demonstration through Newport days before the city hosts a Nato summit in September.
People affiliated with with the Anarchist Action Network said a protest was planned days before the summit.
The network has already begun staging smaller events and is holding a week of seminars and discussions called "Newport Rising" in the city.
There are 100 days to go until the summit at Celtic Manor in the city.
The Anarchist Action Network's seminars, workshops and discussions are being held in a Thai restaurant in Newport's Corporation Road.
Topics include nuclear disarmament, workers rights and lessons on basic first aid.
Around 4,000 people are expected to descend on Newport during the summit to be held on 4 and 5 September.
'Against it'
One protester said: "There will be a trade union-led demonstration through Newport which presumably will be pretty massive, with people attending from all over Wales and from all over the country."
Another said there would be a "big public demonstration organised by lots of different groups working together".
He added: "I think a lot of people are going to be against it and hopefully people will show that.
"I think people will probably come even from other countries, not just from England but from France, Germany. The really committed peace activists will probably come too."
The last time Britain hosted the Nato summit was 24 years ago in London. The event in Wales will also mark the 65th anniversary of Nato.
Up to 60 world leaders, including US President Barack Obama, are expected at Newport's Celtic Manor Resort.