Salmon spawn in upper Taff after 200 years, says river trust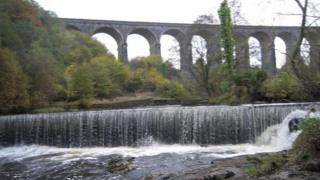 Salmon are spawning in the upper reaches of the Taff for the first time in 200 years, says the South East Wales Rivers Trust (Sewrt).
Already numbers leaping the weir on the Taff Fawr near Merthyr are the highest since salmon were first able to do so two years ago.
Natural Resources Wales (NRW) said it is now the "most improved" salmon population in England and Wales.
Cardiff Bay is one of 250 hosts of World Fish Migration Day on Saturday.
The event aims to show the work undertaken to help migratory fish, including trout, shad and eel as well navigate barriers such as weirs and sluices to enter south Wales' rivers.
Salmon were almost wiped out in the south Wales valleys area because of industrial pollution.
Heavy industry and mining in the area affected many of the rivers and, by the early 1980s, salmon were at very low numbers in the River Taff.
But the open day aims to highlight work to connect up flowing rivers and create fish passes.
Tony Rees, from Sewrt, said the salmon population in the Taff has risen from about 100 ten years ago to 500 now.
But a less well-known success story, he said, was the return of the fish to the upper reaches of the river by allowing them to overcome the Cadw-listed weir built in the late 1700s to divert water into the Cyfarthfa Iron Works.
'Salmon jumping'
Fish had been unable to leap the 1.5m (5ft) weir because of the shallow water at the base.
So trust volunteers built two small weirs downstream using blocks stones, lowering the height of the weir and deepening the pool in front of it.
Mr Rees said: "Last year, saw far more salmon jumping the weir than we had done previously.
"We've definitely had more than that this year."
Peter Gough, of NRW, added: "While water quality in our rivers is better today than it has been for decades and the Taff salmon population is the most improved in England and Wales, fish numbers continue to give cause for concern.
"By tackling migration barriers, we are addressing one of the key factors in securing the future sustainability of migratory fish stocks."