Princess of Wales Hospital wait 'did not cause death'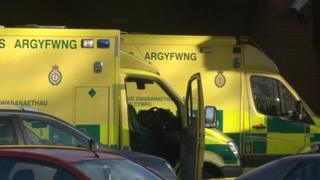 A man who waited more than four hours in an ambulance because there was no room in a hospital did not die because of the delay, a coroner has ruled.
Former miner Michael Bowen, 58, from Ogmore Vale, was taken by ambulance to the Princess of Wales Hospital, Bridgend, on 16 January at 06:15 GMT.
He was assessed on arrival but was returned to the ambulance when there was no room in the A&E department.
Coroner Andrew Barkley recorded a narrative conclusion.
The inquest in Aberdare on Thursday heard that Mr Bowen was rushed to hospital with breathing problems and stomach pain.
He was eventually admitted in the afternoon but suffered a seizure and died just before 14:00 GMT.
'Balance of probabilities'
Pathologist Dr Stephen Leadbetter told the inquest a post-mortem examination showed Mr Bowen had died due to thrombosis, causing blockage in the veins which was linked to cirrhosis of the liver.
Deborah Lewis, a sister in the hospital's emergency department, said there was a shortage of staff early on 16 January and staffing did not reach its full complement until 10:30 GMT.
Mr Barkley said that on the balance of probabilities Mr Bowen's death was not caused or contributed to by the hospital admission delay.
In a statement released after the inquest, Abertawe Bro Morgannwyg University Health Board said since Mr Bowen's death it had strengthened its protocol on how patients are managed in the event of delays admitting them from ambulances.
It has also reviewed its escalation policy, which aims to maintain the flow of patients through the Princess of Wales Hospital during busy times, and has invested £500,000 in community-based staff to reduce the number of emergency admissions of frail, older people.