Newport 'revenge killing' accused not a 'grass'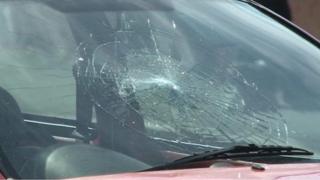 A man who denies the attempted revenge killing of three people in Newport has refused to be a "grass" at his trial.
Gary Rabjohns declined to name individuals at Newport Crown Court "for his own safety", the jury heard.
Lewis Bridge, Brogan Hooper, Ryan Battersby and Mr Rabjohns each deny three charges of conspiracy to murder.
The men are accused of using a 4x4 to ram their victims' car and shooting at them inside on 3 September 2013 in revenge for a drugs robbery.
It is alleged the incident happened on Chepstow Road.
"When you're in prison and you're called a grass it's uncomfortable," Mr Rabjohns said on Tuesday.
"I don't want to incriminate anyone. I've had a few problems so I'd rather keep myself to myself."
The trial continues.