Chief nurse admits profession not prepared for rise in elderly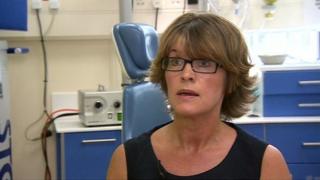 The chief nurse at a hospital criticised for serious care failings has admitted staff were not sufficiently "geared up" for a big rise in the numbers of elderly patients.
Health chiefs say safeguards are being improved after a damning review of the Princess of Wales Hospital in Bridgend and Neath Port Talbot Hospital.
Nursing had been caught out by the influx, said Lesley Bevan at Bridgend.
But she said the profession was adapting.
"I don't think as a nursing profession we were fully prepared for the numbers of frail elderly that we actually have on our wards now and I think that's an enormous education issue for us that we're dealing with," she said.
I was given exclusive access to wards at the Princess of Wales Hospital to assess the impact of the recent report on patients and staff.
According to last week's independent review, care fell way below what was acceptable.
And that cannot be ignored, given that wards we visited were full of older patients.
Consultant Dr Rohan Mehta said: "It sounds odd to say it but in the last five to 10 years the average age of patients in any major hospital has risen by 10 or 15 years which is very peculiar but that's likely to continue to be the case."
Morale, nurses told me, has been severely dented. Several been given counselling.
'Getting the job done'
Lead nurse Alyson Martynski commented: "I was shocked, I was deeply upset. We all have parents, we all have children, family who could be admitted here. And from my perspective, my ward and my nurses I believe they give care."
Ward manager Julie Flower added: "I think everyone works really hard, extremely hard. People stay on, they work through their breaks, there's a good sense of pulling together and getting the job done here."
The review also said there were not enough nurses trained to look after elderly patients.
More nurses, bosses say, have been recruited and procedures have been tightened up across all four Abertawe Bro Morgannwg hospitals which employ over 5,500 nurses.
A number have been suspended from duty, but what about the bosses?
I asked Abertawe Bro Morgannwg Health Board chief executive Paul Roberts how many of them had been sacked.
He replied that the report author had identified "that the worse thing you can do is go for a huge 'heads will roll' mentality".
"So we make changes, we move people on, we take action," said Mr Roberts.
"But we actually think in respect to people who work in our system, whether they be the most junior staff on the frontline or the most senior staff, we don't do that in the public gaze."