School moves on after voyeurism teacher Gareth Williams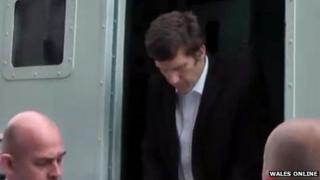 School leaders say they want to put recent events behind them after a Cardiff deputy head teacher was jailed for five years for secretly filming children in toilets.
In a statement, Cardiff council and governors at Ysgol Gyfun Glantaf said they wanted to focus on "ongoing and significant successes of our students".
Gareth Williams, 47, admitted 31 charges including nine of voyeurism and was sentenced at Cardiff Crown Court.
The judge said he caused "real horror".
Williams was caught following a global operation targeting users of a child abuse website, and was jailed on Monday.
The sentencing hearing was told he installed cameras in two private homes and in the changing room toilets at Ysgol Glantaf, where he worked.
He concealed a camera on the water cistern at the school, capturing images of 31 children aged between 11 and 16.
After sentencing, a joint statement from the school, governors and Cardiff council, said: "As always our prime concern is for the safety and wellbeing of the pupils and the focus now needs to be on ensuring that the school community receives support where needed.
"The school and its wider community now look forward to focussing on the ongoing and significant successes of our students, placing the events of the past months firmly behind us."
Williams was investigated by police after computer specialists found he had been buying child abuse images on the internet.
His home was raided and officers discovered two laptops and 11 memory sticks along with pinhole camera equipment.
The court heard he had 16,419 indecent images of children and 691 videos.
Sentencing, judge Rhys Rowlands said Williams had lost his career and reputation, but that was "nothing compared to the worry and real horror which is felt by parents who have trusted their children to you".
After Monday's hearing, Williams's wife, Georgina, said she felt "physically sick" by her husband's actions.