Inquiry continues into boy's motorway coach fall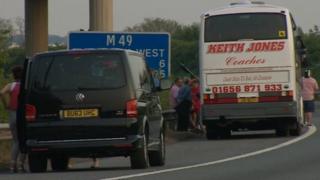 Investigations are continuing into how a 13-year-old boy from south Wales fell from a coach at a motorway junction near the Second Severn Crossing.
The incident on the M49-M4 happened just before 19:00 BST on Friday.
The boy, a member of Tondu under-13s rugby team in Bridgend, suffered a broken wrist and cuts and bruises, but the injuries were not life-threatening.
It is believed he fell from a rear emergency door while the coach was on a roundabout.
The schoolboy was taken to Bristol Children's Hospital by ambulance, where he has remained overnight.
Initially, it was thought the boy had suffered a serious head injury.
But a spokesman for Avon and Somerset Police said on Saturday that the boy had sustained "nasty cuts and bruises" and a broken wrist.
The police official said the injuries were "not life threatening or life changing but unpleasant".
Officers from the force said they would be talking to hospital staff later on Saturday.
The incident forced the police to close the motorway junction briefly while an investigation got underway.
Tondu RFC said it was fully aware of the incident.
"However, we are not prepared to discuss any specific details for legal reasons as there is an ongoing investigation and for the protection of the child and the privacy of the family," said Danny Clark, Tondu RFC mini and junior chairman.
"The extremely wonderful news is that we have been informed that the child involved is being well cared for in a local hospital and hopefully will make a full recovery from an incident that could have had fatal consequences.
County tour
"The club has over 200 members and is always extremely busy with activities and tours but this event is unprecedented.
"Tondu RFC on behalf of the family and the remainder of the touring team would like to commend and thank all of the emergency services for their prompt response and professionalism in respect to this incident.
"One of the coaches at the scene told me that you do not fully grasp the wonderful work they do, day in and day out , until you witness it first hand."
The junior players were going on tour to Somerset when the incident happened. The club has seven junior sides between the ages of seven and 15.
Ken James, whose grandson was also on the coach, said a car stopped inches from the injured boy on the road.
He said other people with the team were being collected by a replacement coach.
The coach involved belongs to Keith Jones coaches based in Bridgend.
Mr Jones said: "I'm distraught at what's happened - I just don't know what to say."