Cardiff University chancellor role is discussed again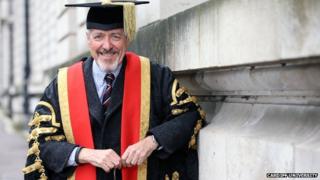 Cardiff University's council has discussed plans for a new chancellor, weeks after comedian Griff Rhys Jones's appointment was embarrassingly stalled at the last minute.
The university's court blocked his appointment after it emerged current chancellor Sir Martin Evans was not given the chance to stand again.
There were calls for resignations and Cardiff University apologised.
Mr Rhys Jones later said he no longer wanted to be considered for the post.
The ceremony to install the Cardiff-born TV presenter in the top university role was halted less than an hour before it was due to take place on 10 April.
The reason for the delay emerged following a meeting of the university's court in which Sir Martin said he would probably have accepted an offer to renew his appointment if it had been made.
The decision was then referred back to the university council.
One member of the court, Prof Brian J Ford, later told BBC Wales members felt "betrayed" over the "grossly embarrassing" affair.
The university council considered the chancellor appointment again at a meeting on Monday, but no announcement on the outcome is expected until Tuesday.
A spokesman for the institution has previously said Sir Martin had indicated his willingness to be considered for nomination for a further term.
Any nomination will have to be approved by the university court at a later date.