Max Boyce laments Muni Arts Centre closure move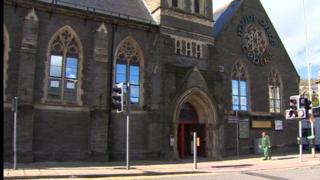 Entertainer Max Boyce says "something dies" in a town when a theatre like Pontypridd's Muni Arts Centre closes.
The arts centre, in a converted church, is to close in Rhondda Cynon Taf (RCT) council's £70m budget savings.
Boyce, 70, who knows the venue well after a career celebrating the rugby culture of the south Wales valleys, said it is focal point for the town.
He told Radio Wales it was a "very difficult situation for councils" as they struggled to balance budgets.
RCT's two other council-run theatres - the Coliseum in Aberdare and the Park and Dare in Treorchy - have been spared the axe but councillors confirmed this week that the Muni will shut.
Boyce declined to criticise the local authority, saying he was sure RCT councillors did not want to have to shut the venue.
He said: "It is a terrible, terrible shame. It's not just a theatre, it's a focal point for people to share their dreams, share their escapism.
"When you take away somewhere like the Muni, something in that town dies."
"These [venues] are so integral to the passion that exists in those communities for the arts and for culture.
"You just can't put a price on that sort of thing.
"Also, young people have somewhere to create, and to make theatre and to make things happen.
"There's nowhere else for them to go and you end up with a dying community and an abandoned town."
Boyce added that his experience of the three theatre venues was that they were "superbly" run and he would help as best he could if a voluntary group were to bid to run the Muni.