School crash driver Robert Bell 'may have fainted'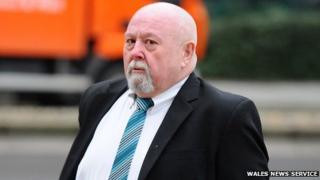 The driver of a car which crashed into children and parents outside a school may have fainted during a coughing fit, his trial has heard.
Five children and three other adults were injured when the car driven by Robert Bell, 62, overturned at a pedestrian crossing outside Rhws school in the Vale of Glamorgan last June.
Mr Bell was typical of someone who could faint during a coughing fit, Cardiff magistrates were told.
He denies careless driving.
Mr Bell's car flipped on its roof in the collision last June sending young children "cartwheeling through the air".
Lollipop lady Karin Williams, 50, was in hospital for 10 weeks while one of the children was unconscious for three days.
Mr Bell has said he does not remember what happened from the moment immediately before the incident until he came around upside down in his car.
But the prosecution has said he was conscious of what happened and that he had told a paramedic that he remembered surging forward after a speed bump.
On Thursday, a medical expert told the court it was possible Mr Bell could faint through being overweight, a former smoker and having a history of the condition in the 1990s.
Prof Alan Maurice said the events surrounding the crash and Robert Bell were "entirely typical" of someone who had fainted during a coughing fit, including Ms Williams's description of him tightly gripping the steering wheel with his eyes wide open.
He said he believed Mr Bell being unconscious could explain why he could not remember what happened.
A driver could pull over at the start of a coughing fit but only if he or she was aware that they were potentially liable to faint, the professor said.
But he said there had been no complaint of coughing to Mr Bell's doctor immediately before or after the the incident.
'Horrendous bang'
The court heard the DVLA believes around 25 people a year die in road accidents caused by blacking out during a coughing fit.
The court has previously been told that Mr Bell was wearing flip flops when he crashed.
Under questioning he said he regularly wore them and that would not have impaired his driving.
Witnesses to the crash heard a "horrendous bang" as the car ploughed into the group of parents and children.
One witness told police the scene was chaotic with parents and children screaming.
The case continues.