Princess of Wales hospital suspended nurses inquiry 'alarming'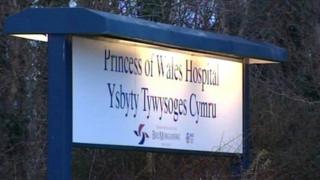 Calls have been made for "no stone to be left unturned" in a hospital's investigation of seven nurses suspended amid allegations of falsifying patient records.
On Monday, officials from Bridgend's Princess of Wales Hospital confirmed an inquiry was under way.
Three other nurses from the hospital have previously been arrested and bailed on suspicion of neglect after claims notes had been falsified.
A criminal inquiry is continuing.
On Monday evening, Abertawe Bro Morgannwg University Health Board confirmed seven nurses had been suspended.
The BBC understands the action was taken some time ago.
Conservative Shadow Health Minister Darren Millar called for all local health boards to "examine their procedures for protecting personal medical records against abuse and falsification".
"These are alarming and serious allegations surrounding the integrity of patient medical records," he said.
"No stone must be left unturned in getting to the bottom of this scandal to restore patient confidence."
In a statement the health board said in early 2013 "internal systems" had "picked up alleged anomalies regarding the record keeping of a small number of nurses".
"The health board notified the police and a criminal investigation (still ongoing) was then launched," it read.
"As a result, three nurses were arrested and bailed and a further seven were suspended on suspicion of falsifying records."
Review
Meanwhile, on Tuesday, the findings of a review called Trusted To Care which was set up by the Welsh government over concerns about standards of care at two hospitals run by the health board was published.
It found there were a number of failings in the care offered at both Neath Port Talbot Hospital and the Princess of Wales Hospital. Health Minister Mark Drakeford offered "an unreserved apology to those individuals and families whose care has fallen so far short of what they would expect while being looked after in these two hospitals".
It found there was:
Variable or poor professional behaviour and practice in the care of frail older people
Deficiencies in elements of a culture of care based on proper respect and involvement of patients and relatives
Unacceptable limitations in essential 24/7 services leading to unnecessary delay to treatment and care
Lack of suitably qualified, educated and motivated staff particularly at night
Adversarial and slow complaints management
Disconnection between front-line staff and managers and confusion over leadership responsibilities and accountabilities
Problems with organisational strategies on quality and patient safety, capacity development and workforce planning
The report also says some staff felt ill equipped to meet the needs of patients with dementia
"I have been shocked by some of what I have read in this report. I am determined that nothing of this sort will be tolerated in Abertawe Bro Morgannwg University Health Board or indeed anywhere else in Wales in the future," he said.
However he added: "Despite the failings it identifies, I am reassured that the report makes it absolutely and repeatedly clear that what has happened in these hospitals is not, and never has been, the same as that at the Mid Staffordshire NHS Trust in England.
"Prof Andrews and Mr Butler (report's authors) say that, throughout the review, the key question posed by others was: "Is Abertawe Bro Morgannwg University Health Board another Mid-Staffs?" The report answers that question directly and unequivocally: "It is not"."
The report made 18 recommendations for improvement which Mr Drakeford said had all been accepted.
An investigation by BBC Wales last summer highlighted significant concerns about the care of pensioner Lilian Williams, of Porthcawl, at the Princess of Wales and Neath Port Talbot hospitals.
Her family claimed she suffered "appalling" neglect between 2010 and her death in November 2012.
The health board subsequently apologised and claimed the case had been "completely unacceptable".