More time for M4 manhole repairs near Newport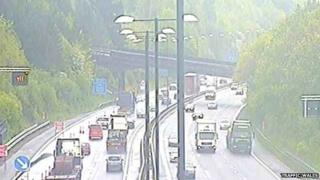 More time is needed for repairs to a manhole which collapsed on the eastbound section of the M4 in Newport, the Welsh government has said.
There were long delays for motorists on Wednesday while emergency repairs to the carriageway took place between Caerleon at junction 25 and the Coldra roundabout at junction 24.
One lane has been closed all day.
Weather conditions have been blamed for the delay and the closure is set to be in place until 06:00 BST on Thursday.