Cancer support centre approved for Velindre site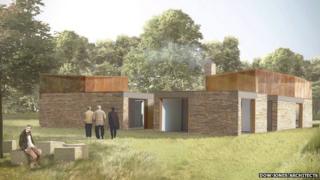 A centre to provide emotional and practical support services to people with cancer has been given planning permission.
Maggie's Centre will sit alongside Velindre Cancer Centre in Whitchurch, Cardiff.
It will give patients access to nutritional workshops and psychological support, and stress management sessions using activities like yoga and tai chi.
Maggie's opened its first Welsh base at Swansea's Singleton Hospital in 2011.
The building has been designed by Dow Jones Architects with a garden planned by a Royal Horticultural Society gold medal winner Cleve West.
Velindre NHS Trust said it would help it become a world-class cancer campus.
The new centre will be built around a central courtyard and open onto a woodland garden with space to grow food.
Maggie's chief executive Laura Lee said, "We are delighted that planning permission has been granted as it brings us a step closer to Maggie's South East Wales becoming a reality.
"The centre will be situated in a beautiful location surrounded by green space, with Dow Jones Architects and Cleve West's inspirational designs ensuring that the landscape will be reflected throughout the building."
Simon Dean, chief executive of Velindre NHS Trust, has welcomed the announcement.