Monnow Bridge gate to welcome more visitors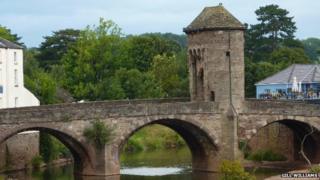 Monmouth's historic gate on the Monnow Bridge has been formally re-opened following an 18-month restoration.
The bridge and its gate, which is more than 700 years old, is one of a handful of its type in Europe and the £81,000 work will allow more visitors.
Until now, access to the gate and its spiral staircase has been limited to one weekend a year, but now it will open one day a week.
Views of the town can be seen on one side and the river on the other.
Councillor David Dovey, chairman of Monmouthshire council, said: "The bridge and gate are symbolic of Monmouth and Monmouthshire through history as being of both strategic and economic importance.
"As far as the latter is concerned it remains so today as the gateway to Wales."