Blaenau Gwent house prices show biggest annual fall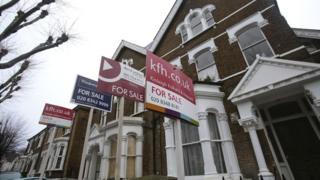 House prices in Blaenau Gwent have seen the biggest annual fall in Wales and England, according to new figures.
The average price in the county, whose main towns include Ebbw Vale and Tredegar, plunged by 15.7% to £61,860.
All regions across England have seen prices rise year-on-year, but in Wales they fell by 1.6% annually to £113,275 on average, says the Land Registry.
A Blaenau Gwent estate agent said there had been more repossessions recently which could be depressing house prices.
Jeanne Fry-Thomas, a director of Bidmead Cook and Fry-Thomas, which has branches in Ebbw Vale and Brynmawr, said she was slightly confused by the figures because business had been steady.
"We looked at our sales figures at the end of the first quarter this year and they were 200% up compared to the same period last year," she said.
"Properties have been selling and we've had quite a lot of interest from people outside the area and interest from investors.
"The only thing I can think of is that we've seen quite a few repossessions in the last six months and they have tended to be from the lower end of the market and this could be depressing the prices."
Overall, combined house prices for England and Wales lifted by 5.6% year-on-year to March to continue their growth at the fastest rate in nearly four years.
But London property values are rising twice as quickly as the national average, with a 12.4% annual increase taking average prices in the capital to £414,490.