E-cigarette ban for Caerphilly council staff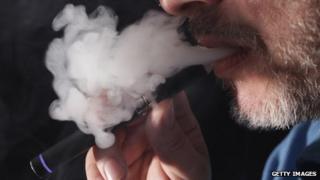 Staff are to be banned from using electronic cigarettes in Caerphilly council-owned buildings and vehicles.
The council said the policy strengthened its efforts to make its premises a healthy and smoke-free work environment for employees and visitors.
Aneurin Bevan University Health Board, which covers Caerphilly, has already banned e-cigarettes.
The Welsh government has said it will prohibit their use in public places.
The council has not set a date for the introduction of the ban but a spokesman said it was imminent.
The policy will not apply to members of the public using council facilities.
Christine Forehead, cabinet member for human resources and governance, said: "As a council we recognise that smoking is the single most preventable cause of illness, premature death and health inequality throughout the United Kingdom.
"Exposure to second-hand smoke is also a cause of ill health and it is estimated to contribute to around 600,000 deaths globally a year.
"This policy strengthens our efforts to make council premises a healthy, smoke-free work environment for employees and visitors."
The move was originally agreed by the council's policy and resources scrutiny committee and rubber stamped by cabinet members on Wednesday.
Caerphilly council said the proposal was sparked by a number of incidents with employees wishing to use electronic cigarettes within council buildings.
A separate report by the directors of Public Protection Wales, looking at the impact of e-cigarettes since their introduction in 2007, found Caerphilly council had also received complaints of taxi drivers smoking in vehicles, which were later found to be e-cigarettes.
This was causing confusion for enforcement officers, it said.