Cameras set up to track down wild boars after burglary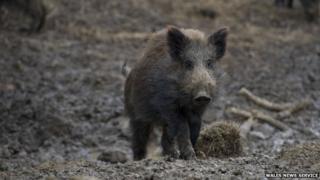 Cameras have been set up to try to find wild boars which were released during a burglary at a farm in Bridgend county.
Police and staff from Natural Resources Wales (NRW) spent the night looking in Bryn Forest for the nocturnal animals.
More than 40 of the animals could be roaming the area after they were released from their pen following a break-in at Bryn Mynach Farm, near Maesteg, at 12:30 BST on Sunday.
Anyone who sees the boars is advised not approach them, but to call 101.
"We have been asked by the South Wales Police to assist in a search for the escaped wild boar within the forestry adjacent to the farm, which we manage on behalf the Welsh government," said David Jam from NRW.
"A team of officers are currently looking for signs of the boar within the forestry, but due to their timid and nocturnal nature, it may be difficult to locate the animals during daylight hours.
"Given that, we will also conduct searches during the night, where the boars are generally most active, and set cameras within the forestry."
South Wales Police said although the animals are not an immediate threat to the public, they may charge anyone who tries to approach them as they will be disorientated and are not used to being out of their pens.
Wild boars are usually nocturnal and can travel up to 30 miles a day searching for food in the early morning or late afternoon and evening.
Farmer Greg Davies holds a dangerous animals licence and had fencing to prevent escapes but he said none of the missing boars had been found although there are signs of fresh footprints.
He said: "It's hard to tell where they are now, they may be in four little groups and they might be close by but there is a lot of forestry and woodland around.
"Officers are concentrating on the woodland because there are more food sources there.
"The trouble is within 24 hours of leaving the pen, they can go feral, I don't expect them to be brought back."
He said there are 23 adult boars, around two years old, on the loose and 19 babies - aged between five and 12 weeks.
Mr Davies said the babies feed every two to three hours so they are at most risk of perishing or being eaten by foxes.
He said: "We are looking at 48 hours-plus now, the babies will be very hungry. I think they will just perish."
Bryn Forest, where the searches have taken place, is around 1km from the farm.
Six people have been arrested following the burglary.