Newport and Merthyr have £5m for bus stations revamp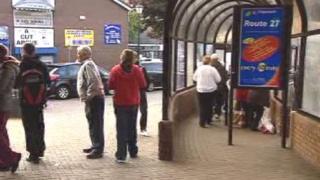 Newport and Merthyr have been given funding to spend on their bus stations as part of wider plans for a regional metro system.
A new bus terminal is to be created in Newport to replace the one demolished to make way for the long-awaited £90m Friars Walk shopping development.
The city will get £4m to provide new facilities like real-time journey information, toilets and a footbridge.
Merthyr will get just under £800,000 as it moves its station to Swan Street.
Transport Minister Edwina Hart said the cash was the first phase of funding from its £77m Cardiff Capital Region Metro project infrastructure budget.
Ms Hart said: "This investment in bus infrastructure will increase the number of people using buses therefore boosting the income of operators, which is an important part of our strategy to create a sustainable bus industry in Wales.