Arrests after wild boars let loose in Maesteg burglary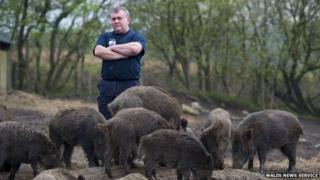 Six people have been arrested after wild boars were released during a burglary at a farm in Bridgend county.
More than 40 of the animals could be roaming the area after they were released from their pen following a break-in at Llangynwyd, near Maesteg, at 12:30 BST on Sunday.
Farmer Greg Davies holds a dangerous animals licence and had fencing to prevent escapes, said police.
Anyone who sees the boars is advised not to approach them, but to call 101.
South Wales Police said although the animals are not an immediate threat to the public, they may charge anyone who tries to approach them as they will be disorientated and are not used to being out of their pens.
Wild boars are usually nocturnal and can travel up to 30 miles a day searching for food in the early morning or late afternoon and evening.
Inspector Paul Thomas said: "These animals are recognised as posing a potential threat. People should take as much care as possible.
"We are investigating the criminal damage and the release of dangerous wild animals, which can carry a sentence in prison."
Mr Davies said he had recaptured some of the animals but there were still 42 unaccounted for.
"We had a break-in at the farm building where we keep all the materials and all the machinery," he told BBC Wales.
"During that break-in, the people that came in actually cut the fences to get access to the building via the animal pens. Thus doing so, they released about 80 wild boar adults and young out into the wild.
"We managed to collect approximately 40 or 45 of them on Sunday morning and one or two have wandered back.
"When we did a full head count last night, we narrowed it down to 23 adult wild boar still unaccounted for and 19 young ones that have just vanished as well."
Naturalist and broadcaster Iolo Williams, the patron of the Wild Boar Trust said he has tracked wild boar in the Forest of Dean.
"They're fantastic animals, fascinating things. It's important I think that we remember they are a native animal. The Welsh princes used to hunt them so they're part of our heritage really," Mr Williams told BBC Radio Wales.
He said people in and around Maesteg have nothing to worry about with the released boars on the loose.
"They have a bad reputation and I don't understand why," said Mr Williams. "They are very secretive, they are very shy and probably the first thing they'll do is they'll head for woodland cover.
"There's quite a bit of woodland up above and at the back of Maesteg there - forestry plantation and I'm pretty sure that's where people will find most of them."
He added: "They're fascinating animals and an important part of the woodland ecology as well. They turf up the woodland floor which helps new plants and flowers grow, which helps insects which helps birds."
Asked whether the wild boar can be a problem if they turn up in a garden, Mr Williams added: "All you have to do is just open the door and off they go immediately. They do not want that contact with people."