Griff Rhys Jones withdraws from Cardiff chancellor role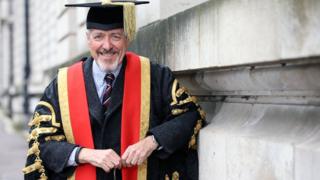 Griff Rhys Jones has withdrawn from becoming Cardiff University's new chancellor just two weeks after an embarrassing debacle which saw his appointment halted at the last minute.
The university's court blocked the appointment when it emerged current chancellor Sir Martin Evans was not offered the chance to be reappointed.
It led to calls for resignations and Cardiff university apologised.
But Mr Rhys Jones has said he no longer wants to be considered for the post.
The ceremony to install the Cardiff-born comedian and TV presenter in the top university role was "delayed" less than an hour before it was due to take place on 10 April.
It later emerged the reason for the delay came following a meeting of the university's court and the decision was referred back to the university council.
Sir Martin told the meeting he would probably have accepted an offer to renew his appointment if it had been made.
Reconsideration
One member of the court, Prof Brian J Ford, later told BBC Wales they felt "betrayed" over the "grossly embarrassing" affair.
A week earlier, Mr Rhys Jones had already posed in the chancellor's robes and gave embargoed interviews about his pleasure at being offered the role.
Prof Ford wrote a letter to the university's vice-chancellor Prof Colin Riordan describing Nobel prize-winning scientist Sir Martin as a "pioneer of stem cell research and a Nobel laureate", and said replacing him without due process was "inadmissible conduct".
He demanded whoever was responsible for the debacle "should not remain in office".
Now Mr Rhys Jones has written to Prof Riordan announcing his withdrawal saying he could see the decision to refer the appointment back would need a period of reconsideration and re-evaluation.
He added: "It may well be that the council wants to re-offer the post to the incumbent, Sir Martin Evans.
"Sir Martin may decide to take it or step aside. I feel, however, that my presence only makes this a more complicated process for everyone concerned.
"I can't say that I am offering my resignation. I haven't yet been appointed. But I do not want to be further considered for this post."
'Ongoing friendship'
Mr Rhys Jones added that he was "honoured" to be chosen, but that any further association "would only be the subject of dispute and that would not be good for the council or the court of the university".
Cardiff University said it was "very sorry for creating the circumstances" leading to the comedian's decision.
Those events were based solely on internal roles and procedures and its "ongoing friendship with Griff Rhys Jones was never in question", a spokesperson said.
"We are immensely proud of Griff's continuing work as an honorary fellow and patron to our Sustainable Places Research Institute, and he remains a trusted supporter of the university," he added.
The university council will consider the chancellor decision at a meeting on 19 May, and Sir Martin has indicated to its chair his willingness to be considered for nomination for a further term, the spokesperson added.