Bryn Defaid opencast mine set to create 50 Aberdare jobs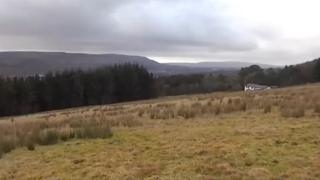 Plans for a new opencast coal mine creating 50 jobs in the south Wales valleys have been approved by local councillors.
Celtic Energy is to develop the 100 hectare (250 acre) Bryn Defaid site at Llwydcoed near Aberdare.
Most of it is a Site of Importance for Nature Conservation, including forest, farmland, moor and coal spoil tips.
A local action group objected to the mine claiming it will create noise, pollution and environmental damage.
But the scheme was approved subject to guarantees on the site being restored after mining ends.
Celtic Energy aims to mine 1.2m tonnes of coal over five years with a one-and-a-half year restoration period after mining ends.
The company promises 50 new jobs on the site with the prospect of up to 150 more jobs indirectly created in transport and service activities, plus a £500,000 community fund.
Habitats for protected species such as great crested newts, bats and birds would be under threat, according to a report put before Rhondda Cynon Taf council's planning committee meeting on Thursday.
But planning officers said the restoration plan and a 25 year aftercare period would help limit the environmental impact to acceptable levels, and have recommended approval of the scheme.
'Arc of opencasts'
Natural Resources Wales had no objections subject to measures to restore or replace lost habitats, but the council's own ecologist was concerned about the loss of Fothergill's Patches, an area of Victorian coal spoil tips which was now an important wildlife habitat.
The council report said around 150 letters about the project had been received, more than two thirds in support and around 30 objecting.
Villagers in Llwydcoed set up an action group to campaign against the mine, claiming a "growing arc of opencasts" across the head of the valleys was creating pollution, noise and environmental damage.
Bella Dicks from the action group told BBC Radio Wales: "There is a huge arc of these opencasts opening up across the whole of the Heads of the Valleys area.
"This is simply going to slice off the mountain in between these two valleys, is going to consign the people to a really bleak dirty polluted and oppressing future."
Neighbouring Merthyr Tydfil council also objected claiming a lack of information has been submitted to assess the potential impact on the natural environment over its border to the east of the site.
Celtic Energy said there had been extensive public consultation and the concerns of local residents had been taken into account.
A spokesman said opponents of opencast mining "fail to recognise the many benefits that such schemes would bring in terms of employment, apprenticeships, long term biodiversity, landscape and amenity benefits as well as direct financial support to community projects to name but a few.
"Coal is still a valuable energy mineral and an important employer with over 1,000 people still employed directly in coal extraction in south Wales. The 50 new jobs created by this scheme will further add to this number."