Protest against Nant Llesg opencast mine plans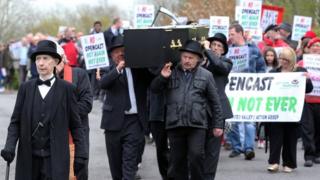 A protest has taken place against plans for an opencast mine in the Rhymney Valley.
Organisers said around 200 residents and campaigners took part in a mock funeral procession on Tuesday to symbolise the death of the valley.
Developer Miller Argent has said its Nant Llesg mine would provide up to 239 full-time jobs.
The protest was held outside the offices of Caerphilly council, which will decide on the plans.
Campaign group Green Valleys Alliance commissioned university research which claimed the mine "could affect future inward investment prospects".
Cosmetics firm Richards and Applebey, which employs 140 staff at its factory on the Heads of the Valleys industrial estate - near the site of the proposed mine - has said it will have to relocate if the mine goes ahead.
Many residents are also concerned about the impact of the project.
Ethan Pitt, who lives near the proposed site, said: "We have a high risk area for health and, by an opencast, the dust will only increase the issues.
"We're also a sort of rural community and most of the area, especially where the opencast will be, is used for farmland.
"I'm very close within the farming network and I know it will be affected greatly.
"The wildlife up there will also be affected."
Community concerns
Miller Argent, which employs 200 staff at Ffos-y-Fran opencast mine near Merthyr Tydfil, has said it would invest nearly £13m annually and a fund would be set up to support local community projects.
Managing director Neil Brown said concerns had been raised by protesters when work started on the Ffos-y-Fran site but they had proved to be "groundless".
"Extensive local consultation on our Nant Llesg scheme has been carried out and we have made substantial changes to address points raised," he said.
"The scheme will bring huge benefits to the area, including hundreds of new jobs, a multi-million pound community benefit fund and much needed investment into the local economy. We will continue to work closely with the local community.
"As part of our planning application, we have undertaken in-depth studies into potential environmental, health, economic and social impacts, and are confident our scheme meets the stringent standards required by government organisations - such as Natural Resources Wales and the local council."