Llanishen reservoir campaign plea to David Cameron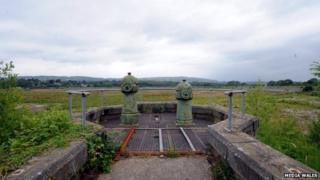 Campaigners calling for a Cardiff reservoir to re-open will visit the prime minister to press their case to restore fishing and sailing there.
Llanishen reservoir was emptied in 2010 but Western Power Distribution (WPD) lost a bid to build more than 300 houses on the site.
Celsa Steel UK, which now owns the site, has yet to reveal its plans.
The local action group wants David Cameron's help to return leisure activities to the reservoir.
Listed as a Site of Special Scientific Interest (SSSI), Llanishen reservoir was previously a popular location for sailing and fishing, with ramblers and walkers using nearby meadows.
Bought by WPD in 2001, the company drained the site in 2010 amid plans for a housing development, but the proposal was turned down in April 2013.
The site was sold along with nearby Lisvane reservoir in August 2013 to Celsa Steel UK, which owns Tremorfa steel works in Cardiff.
Celsa Steel UK said at the time it planned to use the Lisvane reservoir to serve its steel plant, but did not confirm any plans for Llanishen.
Olympic talent
Reservoir action group chairman Dr Richard Cowie and local Conservative councillor Craig Williams will meet Mr Cameron in Downing Street on Wednesday to press their case for a re-filling of the reservoir.
"We have campaigned for over 12 years to prevent this area from being developed for housing," said Dr Cowie.
"The reservoir has previously been home to one of Wales' leading sailing schools for young people and a very active fly fishery. We would like to see it returned to this use."
The group says Llanishen reservoir had a strong track record for training young sailing talent, including 2012 Olympic silver medallist Hannah Mills and 2016 hopeful Dave Evans.
A spokesman for Celsa Steel UK said although the firm was aware of the strength of feeling about the issue it was unable to consider the reservoir until it was able to "achieve a level playing field for energy prices".
"We are in regular contact with local, regional and national government including Mr Cameron, members of his cabinet and other government officials to achieve a change to UK energy pricing," he said.
"Until such time that we see change in energy pricing, I fear that we wont be in a position to consider the reservoirs."