Cefn Ila woodland site boost by £297,700 heritage grant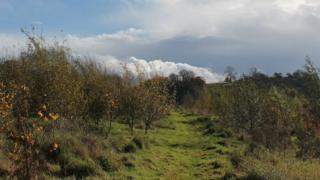 A woodland surrounding a derelict Monmouthshire mansion will be boosted as a visitor attraction with nearly £300,000 of heritage lottery funding.
Cefn Ila, near Usk in Monmouthshire, will see Victorian pleasure grounds, walled gardens and an orchard of rare trees restored by the Woodland Trust.
The site is an important habitat for bats, song thrushes and marsh tits.
As well as conservation work, the money will help fund a history project and potentially an exhibition.
Bought by the Woodland Trust in 2007, Cefn Ila is recognised as one of Wales' historic parks and gardens by Cadw.
The site includes the remains of a derelict 19th century hospital - destroyed by fire in 1973 - a bat roost, walled garden, arboretum and orchard, all of which have fallen into neglect.
The money will be spent restoring the garden and orchard to make them suitable for visitors, with volunteers, community groups and schools to be encouraged to help the site's conservation.
An oral histories project will gather memories and artefacts about the old maternity and convalescence hospital which could form the basis of an exhibition in partnership with local museums.
Jennifer Stewart, head of the Heritage Lottery Fund (HLF) in Wales, said "This is an excellent project which offers a range of opportunities for young and old alike to discover Cefn Ila's rich heritage."
Cefn Ila site manager Barry Embling said: "It is vital that our wildlife and habitats are protected and we are grateful that the HLF continuously recognise the importance of nature as a key part of our national heritage in Wales."
The fund has also awarded £10,000 to the Flintshire War Memorials project to create a website telling the life stories of those who died serving their country in World War 1.