E-cigarette ban planned by Caerphilly council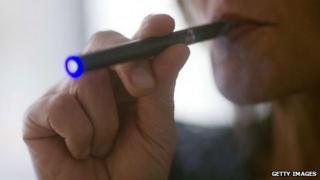 Electronic cigarettes could be banned from use in council-owned buildings and vehicles in the Caerphilly county borough.
If agreed, the move would see so-called e-cigarettes treated in the same way as conventional cigarettes.
A report on the proposals says the move is in line with the stance taken by Aneurin Bevan University Health Board.
The Welsh government recently announced its intention to ban e-cigarettes in public places in Wales.
Caerphilly council said the proposal was sparked "because of a number of incidents with employees wishing to use electronic cigarettes within council premises".
A separate report by the Directors of Public Protection Wales, looking at the impact of e-cigarettes since their introduction in 2007, found they often caused problems for enforcement officers.
'Normalise smoking'
Caerphilly council had received complaints of taxi drivers smoking in vehicles, which were later found to be e-cigarettes, it said.
The same problem was also reported in Cardiff, Swansea and Wrexham.
The proposal to prohibit their use in Caerphilly council premises must be agreed by its cabinet before it can be introduced.
Earlier this month ministers in Wales said they would consider banning the devices - which can contain nicotine - in public places.
This was in response to concerns they normalise smoking and undermine the smoking ban.