750,000 trees replace felled larch disease woodland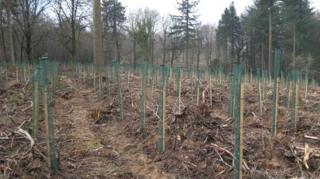 More than 750,000 trees have been planted across Wales, replacing larch trees felled due to disease, says Natural Resources Wales.
Surveys in 2013 found the disease had spread more quickly than expected after a wet and warm winter better allowed the spores to travel to other trees.
NRW It said more than 6,600 hectares (16,000) of woodland had been infected.
Restored areas include Wentwood Forest, near Newport and Bwlch Nant yr Arian, near Aberystwyth.
In October last year, NRW said diseased trees across an area the size of around 300 football pitches were being felled at Wentwood Forest, Wales' largest ancient woodland.
It said larch trees there had become infected with the fungal disease Phytophthora ramorum.
The infection can kill trees and had spread across the UK after being found in south west England four years previously.
The Woodland Trust, which owns most of the forest, said the felling of the trees was essential.
NRW said the restocking of 5,300 hectares (13,000 acres) of larch woodland it manages is in addition to 3.4m trees replanted at other woodlands following felling for timber production.
It said these comprised 37 different species including native oaks, cherry and lime as well as more marketable timber like Douglas fir, Serbian spruce and Western red cedar.
This is double the number of tree species that would have been planted 10 years ago, it said.
Neil Muir, from NRW, said: "Tackling this disease in our larch trees is a difficult task.
"We are working on a new Welsh government strategy which aims to slow down the disease by felling in new areas of infection.
"However, there is a positive side to this disease as we have a once in a lifetime opportunity to redesign the forests we manage to make them more resilient to disease and a better place for people and wildlife."