Atlantic Recycling fire near Cardiff, treated as arson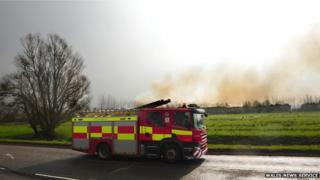 A fire at a recycling site on the outskirts of Cardiff is being treated as arson, say police.
About 2,000 tonnes of plastic and wood were set alight at Atlantic Recycling site in Wentloog during the early hours of 28 March.
South Wales Police said they are investigating after the blaze was found to have been started deliberately.
Officials found air pollution levels in the area to be low despite the fire burning for five days.