Sailors cleared in Cardiff Bay boat crash trial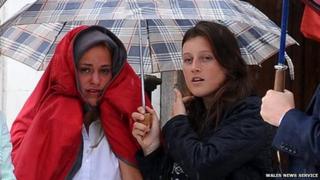 Two sailors whose boats collided at night leaving a schoolgirl brain damaged have been cleared of speeding and failing to keep a proper look-out.
Nia Jones and Eleni Morus, both 17 at the time, were transporting 24 girls aged 10 to 14-years-old across Cardiff Bay, Cardiff Crown Court had heard.
The pair had admitted piloting the boats without navigation lights.
However, the judge dismissed those outstanding charges and the two women walked free from the court.
'Go faster'
The jury heard how Miss Jones and Miss Morus - who have represented Great Britain at sailing - were in charge of the group on a residential sailing course during half-term in October 2010.
On the night of the incident, the group were returning from an evening ice-skating to their hostel in two speedboats.
Miss Jones was urged by the schoolgirls to go faster, it was alleged.
She allegedly replied "sod it" and accelerated, jumping over the wake left by Miss Morus' boat, according to a witness.
The boats collided and an 11-year-old girl was thrown from one vessel to the other, suffering brain damage, while two others fell into the water.
One suffered long-term injuries to her rib and another had a black eye.
Summing up, judge Neil Bidder QC said Miss Jones and Miss Morus, both from Cardiff, had been asked to take the children back to the hostel after one was injured and there were not enough adults to supervise the remaining group.
The court heard the women had been given little information about what the job entailed when they were employed.
After the verdicts, Russell Kelly, the solicitor representing the pair, said: "The defendants are relieved that this is all over.
"They've every sympathy for the girls who were injured in the incident and sincerely hope that they make a full recovery.
"Both defendants now just want to concentrate on their studies and put this ordeal behind them."
Captain Jeremy Smart, head of enforcement for the Maritime and Coastguard Agency, said the agency had brought the case "because we feel it is essential that parents that put their children into the care of other organisations... can be assured that things are done properly during those events".
Miss Jones said she had no previous experience of driving at night and did not realise she was not qualified to do so. She denied speeding up under the girls' bidding and said she would not have used the language attributed to her.
Miss Morus said she was not speeding that night and had maintained a proper look-out throughout.
Both women denied they had been wake-jumping before they accident, and said they kept a proper look-out, but only saw each other when it was too late.
Nicholas Sawyer and Cardiff Bay Yacht Club, who organised the course, have admitted offences in connection with the incident and breaking health and safety regulations.