Tommy Cooper anniversary marked by heart defibrillator drive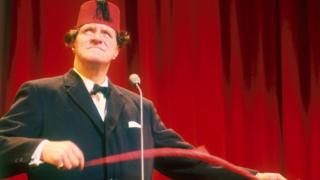 Fans of Tommy Cooper are marking the 30th anniversary of the entertainer's death from a heart attack by launching a campaign to save others from the same fate.
Two defibrillators will be given to a library and a tourist information centre in his birthplace of Caerphilly.
Members of the Tommy Cooper Society hope it will inspire other clubs and venues to buy the life-saving devices.
Secretary Tudor Jones said it could have saved Cooper's own life.
The comic magician collapsed on stage and died during a live TV broadcast from Her Majesty's Theatre in London on 15 April 1984 at the age of 63.
Spirit 'alive'
Mr Jones said members of his society felt that launching Tommy's Ticker Fund for defibrillators was a good way to mark the anniversary.
"We've made very little reference to his death in the past - we feel his spirit is still alive and making us laugh," he said.
"There's a certain poignancy to this - if there had been a defibrillator on stage 30 years ago maybe he'd have been with us a little longer.
"These things can save lives," he added.
The defibrillators, which are used in attempts to re-start hearts with electric shocks, cost about £1,000 each.
The campaign got off to a good start when a letter to a local newspaper about it prompted the Gwent Association of Voluntary Organisations to offer the chance of grant aid, which has funded the first two devices.
Wales Ambulance Service crews will demonstrate how to use the defibrillators correctly as they are handed over to staff at the town's new library and the nearby tourist information centre on Tuesday.
The Tommy Cooper Society previously campaigned to have a statue of their hero erected in the town.