Resignation call over Griff Rhys Jones chancellor 'delay'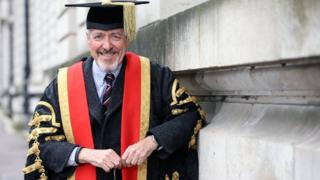 Calls have been made for resignations following a shelved attempt to appoint comedian Griff Rhys Jones chancellor of Cardiff University.
Prof Brian J Ford said the university's court refused the comedian's appointment because current chancellor Sir Martin Evans was not given the chance to be reappointed.
He claimed many members felt "betrayed" over the "grossly embarrassing" affair.
Cardiff University said its ruling council would meet again to reconsider.
Prof Ford and other court members said they were surprised and angered when it emerged during a meeting last week that Nobel Prize-winner Sir Martin was not offered the opportunity to serve again.
Prof Ford has now written to the university's vice-chancellor, Prof Colin Riordan, demanding whoever was responsible "should not remain in office".
The university said last Friday that Mr Rhys Jones's appointment had been "delayed" and Sir Martin would continue as chancellor while questions over his reappointment were clarified.
A week earlier, the Cardiff-born comedian and TV presenter had already posed in the chancellor's robes and gave embargoed interviews about his pleasure at being offered the role.
Sir Martin told last week's meeting he would probably have accepted an offer to renew his appointment if it had been made.
'Grossly embarrassing'
In his letter to the university's vice-chancellor Prof Ford describes Sir Martin as a "pioneer of stem cell research and a Nobel laureate", and said replacing him without due process was "inadmissible conduct".
He wrote: "To say that this distinguished academic has been peremptorily replaced by a comedian known to a restricted British TV audience runs the risk of showing us as parochial and out of the league of major universities.
"Griff Rhys Jones is amusing, witty and an excellent comedian; though not a single person in my discussions has seen any relevance of those admirable qualities to the position of chancellor of Cardiff University."
Prof Ford told BBC Wales: "I'm personally nonplussed by the whole thing and it's grossly embarrassing for the university."
A university spokesman said the university court had referred the matter back to the university council, which would meet at the first available opportunity.
"We cannot comment further until council have considered the matter," the spokesman added.
A spokesman for Mr Rhys Jones declined to comment.