Rowan Williams begins University of South Wales role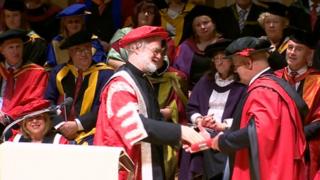 The former Archbishop of Canterbury has been installed as chancellor of Wales' largest university.
The University of South Wales' position is the first major public role in Wales for Rowan Williams since he retired in 2012.
In his role as chancellor, he presented honorary doctorates to Carwyn Jones and Wales rugby coach Warren Gatland.
The University of South Wales was formed by the merger of Glamorgan and Newport universities last June.
"I'm delighted to be involved in a major institution in a part of the world that's so important to me," said Lord Williams of Oystermouth, who grew up in the Swansea Valley and is also a former Archbishop of Wales."
'Burden'
Lord Williams, who took up another academic role as master of Magdalene College in Cambridge after relinquishing the church role, was asked his views on student tuition fees and debt which he described as "pretty stressful" for students.
"The debt burden is a real one and we're beginning to see how impractical it is to think you'll get all that money back in the long term," he said.
"I think there're some really serious questions about how much we want as a society to invest in higher education. I hope it will be more.
"Like most people of my generation - first of their family to go to university - I look back and ask would it have been possible for me to go to university if I had that burden - and I think it wouldn't have been."
As well as the first minister and Wales rugby coach, Lord Williams also presented honorary doctorates to presiding judge for Wales, the Honourable Mrs Justice Nicola Davies, and to Julia Unwin, chief executive of the Joseph Rowntree Foundation.
University of South Wales vice-chancellor, Prof Julie Lydon, said: "The installation of chancellor is, of course, a moment of great academic ceremony, but it is also fundamental reassertion of our values.
"As part of this celebration, it is important that we are able to honour the work of some outstanding individuals, and we are privileged to make this award to Julia Unwin for her work in influencing public policy and campaigning for charity."
Students at the Royal Welsh College of Music and Drama performed a fanfare composed for the ceremony.