£3.2m marina to revive Porthcawl is officially opened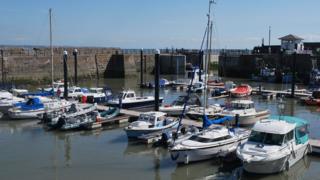 A new £3.2m marina aimed at reviving a south Wales resort has been opened.
The harbour at Porthcawl in Bridgend county has been renovated to include a permanent basin of water, a pedestrian footbridge, while the berths has more than doubled to 70.
But some residents have complained about a pile of silt dredged to create the marina.
The council said it had asked residents to take down warning signs because it held no risk to public health.
But it has confirmed that the silt has been exposed to fuel and oil and is subject to special regulations for material suspected of being contaminated.
The material was destined to be used for a planned Morrisons supermarket but the company has now pulled out of the deal.
First Minister Carwyn Jones and Finance Minister Jane Hutt attended the marina opening on Friday.
The work on the coastal town's historic harbour includes a new harbour gate and an extension to its eastern breakwater and pontoon moorings for a 70 leisure, commercial and visiting craft.
The European Union-backed project has also includes the revamp of the old harbour master's office, while a new permanent team of staff will oversee daily business at the marina.
Tourism is also set to benefit with news that advance moorings have been booked for visitors planning to come to Porthcawl for a senior Open golf tournament and the annual Elvis Festival.
Bridgend council's leader Mel Nott said: "It's great to see that Porthcawl marina is already doing really well.
"As we continue to regenerate the waterfront area, we'll be seeking to further enhance the marina's facilities and expand on its success.
"For example, we are currently liaising with developers over potential opportunities for bringing the nearby Grade II-listed Jennings building back into public use.
"This has taken a significant step forward to becoming a reality and we recently learned that our bid to the Heritage Lottery Fund for a townscape heritage initiative in Porthcawl has been successful, with a grant of £524,900 being awarded for the entire programme."