Porn images teacher Robert Adams banned from classroom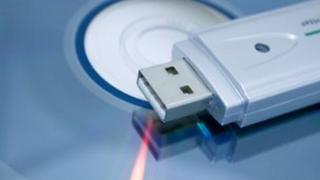 A primary teacher who transferred his porn collection onto a school computer has been banned from teaching.
Robert Adams, 52, was trying to fix an IT problem with his own memory stick when he uploaded the photos.
The pictures, including one child abuse image, were found on a computer at Deighton Primary School in Tredegar, Blaenau Gwent where he worked.
A tribunal ruled he was guilty of unacceptable professional misconduct.
General Teaching Council for Wales (GTCW) committee chairman, Steve Powell, said the case was "particularly serious".
"Indeed, it was so serious that we concluded that the storage of such material, and, in particular, a pornographic image of a child on the laptop and memory stick owned and only used by Mr Adams which he then introduced to the school curriculum network, was fundamentally incompatible with him continuing to be a registered teacher," he said.
Pupil safety
Mr Adams will be removed from the teaching register indefinitely and cannot apply to be reinstated for five years.
Mr Powell added: "No lesser sanction would enable the committee to be satisfied that the safety of pupils was protected and that the reputation of the profession is maintained."
An earlier GTCW hearing was told the images were discovered by a nursery nurse hours after IT coordinator Mr Adams had tried to fix a problem using one of his own memory sticks.
He had used a USB stick to download files from the school's server after it crashed, before re-uploading them two days later.
Mr Adams had claimed he did not know there was a pornographic folder called "Glam" on the device, and unwittingly uploaded it.
Police arrested Mr Adams, who had worked at the school for more than 20 years, but he was released without charge.
The panel had heard that in autumn 2009 all schools in the Blaenau Gwent area suffered IT problems and risked losing pupils' work and lesson plans.
Mr Adams "went out of his way" to try to save the work from being lost and downloaded it onto a USB memory stick.
The hearing was told the teacher accepted the memory stick was his and no-one else had access to the computer while he was uploading the material.