Cardiff Bay speedboat crash sailor told to 'go faster'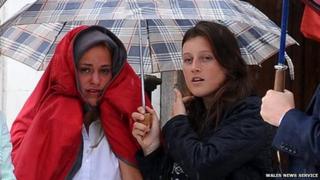 One of Britain's top sailors was urged to "go faster" before a night-time speedboat crash which left a schoolgirl brain damaged, a jury has heard.
Nia Jones said "sod it", accelerated but then collided with another boat in October 2010, Cardiff Crown Court was told.
She and Elleni Morus, then both 17, deny speeding and not keeping a proper lookout in Cardiff Bay.
But they have admitted piloting the boats without navigation lights.
The pair, both from Cardiff, have both represented Great Britain in sailing. They were in charge of a party of 24 schoolgirls aged 10-14 on a residential sailing course during half-term holidays.
The crash between the boats they were piloting was so "violent" two passengers were hurled into the water and a third fell halfway in.
A fourth girl, an 11-year-old who was left brain damaged, was thrown from one boat and into another.
'Go faster'
In the hours before the collision Miss Jones and Miss Morus, who are now both 20 years old, had taken the girls ice skating. They were returning to their hostel late at night in the speedboats when they crashed, the court heard.
Miss Jones began speeding and weaving after being told "go faster, go faster" by her young passengers, it was alleged.
But after weaving in the dark and jumping the wake - when a boat jumps over the waves made by another - of her friend Miss Morus' speedboat, they collided.
One of the schoolgirls thrown into the water, who was 11 at the time of the incident but is now 14, said Miss Jones was begged to go faster by her young passengers.
"We were urging Nia to go faster and she said, 'sod it' and then did it," she told the court.
"We were excited but some people told Nia to slow down. She went over the wake of the other boat a couple of times before we crashed."
"Just before we collided I think we all knew we were going to crash but we didn't move or scream, we didn't have time to," said the girl, who appeared via videolink in her school uniform.
'I couldn't swim back'
She told the court she did not remember being thrown out of the boat but recalls being in the water.
"I was in there for a couple of minutes before they picked me up," said the teenager.
"I was really cold and I was quite shocked so I couldn't swim back to the boat."
The court had previously heard Miss Jones was warned not to "wake jump" in the dark, just minutes before the crash.
Oliver Willmott, prosecuting, told the court four inflatable speed boats illegally set off across Cardiff Bay without any lights on.
"Two of the four boats were more powerful than the others and the defendants ran to the top of the slipway in order to get them," said Mr Willmott.
"Nicholas Sawyer was the chief instructor of the sailing course and he told the girls to be sensible."
Sawyer and Cardiff Bay Yacht Club, who organised the course, have admitted offences in connection with the incident and breaking health and safety regulations.
The court heard Miss Jones and Miss Morus were not qualified to drive the high-powered rigid inflatable boats at night. They have admitted piloting the boats without navigation lights on the night of 27 October, 2010 but both deny failing to travel at a safe speed and failing to keep a proper lookout.
The trial continues.