Chalkie Davies' rock star photos to go on show in Cardiff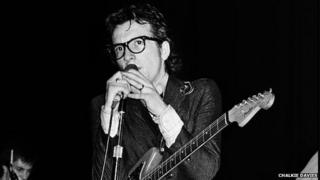 Pictures of some of the world's most famous rock stars taken by a Cardiff-born photographer are to go on display in Wales.
The exhibition by Chalkie Davies includes images from the 1970s and 1980s of Blondie's Debbie Harry, David Bowie and Bruce Springsteen.
They photos date from his time working for music magazine NME, with many appearing on its front cover.
The collection will come to National Museum Cardiff next year.
Originally from Sully in the Vale of Glamorgan, Mr Davies spent four years training to become an aircraft engineer before deciding to quit for a life in photography.
Mr Davies, who now lives in New York, joined the NME as a staff photographer in 1975 and worked there until 1979, where he shot numerous covers and features.
He also toured with Paul McCartney, Elvis Costello and Thin Lizzy, later shooting the picture used as the sleeve of their Live and Dangerous record.
But his passion for studio photography saw him give up touring in 1980, instead specialising in black and white portraits.
He shot dozens of record covers for many artists including The Specials, The Pretenders, The Who, Pete Townshend, Elvis Costello, David Gilmour and Robert Plant.
The collection of 33 photographs is now on at Snap Galleries in London but will come to the National Museum Cardiff from May to August next year.