Sara Ege murder case: Conviction appeal bid dismissed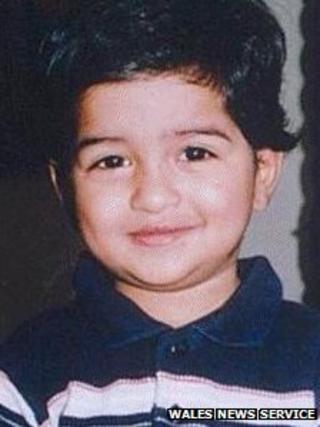 Judges have dismissed an appeal bid by a woman who beat her son to death for failing to memorise the Koran.
Sara Ege was jailed for a minimum of 17 years at Cardiff Crown Court in January 2013 for murdering Yaseen Ege, seven.
Her lawyers argued the trial judge did not allow the jury to hear an expert report on the family pressures and "cultural norms" Asian women faced.
Three judges at London's Appeal Court rejected the argument saying there was nothing "objectionable" in the case.
Ege's trial heard she subjected Yaseen Ege to prolonged cruelty and a ferocious beating at their home in Pontcanna, Cardiff, in July 2010.
She also set fire to his body in an attempt to conceal her last fatal attack.
Firefighters called to the family's house initially thought Yaseen had died in an accidental fire.
A post-mortem examination revealed he had died of multiple injuries after being beaten with a blunt instrument some hours before the fire began.
Ege was convicted after a five-week trial during which she had pleaded not guilty to murder, claiming that her husband was responsible for Yaseen's death and had intimidated her into taking the blame.
'Overwhelming evidence'
Yaseen's father, Yousuf Ege, a taxi driver, was cleared of allowing the death of a child by failing to protect him.
Sara Ege was also found guilty of perverting the course of justice and was given a four-year sentence for that crime.
The three appeal court judges, Lady Justice Rafferty, Mr Justice Cranston and Mr Justice Stewart, said there were no "arguable grounds" to suggest the Ege's convictions were "unsafe".
Ege's barrister, Amjad Malik QC, applied to appeal against her convictions, arguing his client did not receive a fair trial because the judge erred in refusing to allow the expert report to be placed before jurors.
Mr Malik said the jury "was not able to understand those issues relating to shame and honour" within Ege's family.
But Lady Justice Rafferty said there was overwhelming evidence against Ege to support the convictions.
She said: "We do not consider that there are arguable grounds to suggest that the convictions are unsafe.
"While we are grateful to Mr Malik, the renewed application to appeal is refused."