Cardiff incinerator: High Court legal challenge dismissed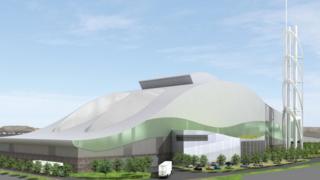 Campaigners trying to halt construction of a waste incinerator in Cardiff have lost their High Court challenge.
The Cardiff Against the Incinerator (Cati) group had concerns about the safety of the plant, operated by Viridor near Splott.
Plans are to burn rubbish from homes and businesses from across south Wales at the Prosiect Gwyrdd incinerator.
Following the judgement, Cati said it planned to appeal.
Work on building the incinerator at Trident Park began in 2012 and the plant is expected to be up and fully running by next year.
Viridor say it will treat up to 350,000 tonnes of residual waste - generating enough electricity to power 50,000 homes.
However, opponents challenged whether the planning process was legal.
Judgement
The scheme was granted planning permission by Cardiff council in June 2010, subject to a series of conditions that had to be met before construction got underway.
A consultation notice on whether those conditions had been met was published by Cardiff council in July 2012 - and actual work began on the site the following day.
Cati made representations to the council, claiming it acted unlawfully in this matter.
But Mr Justice Wyn Williams, sitting at Swansea Crown Court, dismissed the claims, stating "there is simply no basis to conclude, on the basis of our domestic common law, that the defendant acted unlawfully".
Following the judgement, Councillor Michael Michael, Cardiff council's planning committee chairman, said: "The council has always been confident in the planning determination and consent for this facility. I am pleased that this long standing case has now been resolved."
A Viridor spokesperson said the company was pleased with the decision.
"We have always been fully confident in the planning position and consent for this facility and felt strongly that bringing this to court was not the best use of taxpayers' money and resources," added the spokesperson.
Legal appeal
But opponents Cati said they planned to appeal the court ruling.
The group said: "Cati believe that Cardiff council's repeated delay to enforce against Viridor's unlawful building work and failing to require retrospective permission is unique in British law and our case is strong."
The Prosiect Gwyrdd scheme will deal with waste that cannot be recycled from Caerphilly, Cardiff, Monmouthshire, Newport and the Vale of Glamorgan.
The Welsh government estimated that 36 full-time jobs will be created by the plant, and the councils involved hope to save £500m over the next 25 years.