Thousands of Cardiff City fans march against club's blue to red rebrand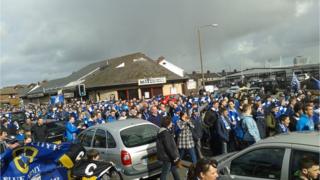 An estimated 3,000 supporters opposed to Cardiff City's change of shirt colour from blue to red have been taking part in a protest march and demonstration.
The supporters marched from the Canton area to the club stadium, singing songs in protest.
The march was held ahead of the Liverpool match which the Bluebirds eventually lost by six goals to three.
Cardiff City say organisers have been invited to sit down with the chairman.
Malaysian owner Mr Tan changed the club's colour to "lucky" red in 2012 as part of a multi-million pound investment.
But the rebrand sparked strong opposition from some fans who have held previous demonstrations.
Saturday's march started in Canton and made its way to the Fred Keenor statue at the Cardiff City Stadium. The fans sang songs as they marched, with some sitting down in the road from time to time.
The protest featured all the major fan groups for the first time - Cardiff City Supporters' Trust, the Cardiff City Supporters' Club, Cardiff City Forum, Cardiff City Online and Bluebirds Unite.
Before the march, protesters said their one objective was for fans to display a "mass show of pride in Cardiff City's heritage and tradition and to peacefully demonstrate our strong desire to return to our blue kit with Bluebird badge".
Tim Hartley, chairman of Cardiff City Supporters' Trust, said: "We are hoping for a very good turnout because it will be the first time all the supporters' groups and social media groups have joined together.
"But the march is not against Mr Tan, it's in favour of the traditional blue colour.
'Critical stage'
"The blue shirt and the Bluebirds symbol has been part of 100 years of tradition at Cardiff City and we don't think that should disappear."
Mr Hartley said there had been a hardening of views of this issue.
"In a recent survey 85% of our members and non-members wanted us to actively campaign for the return of the colour blue," he added.
Cardiff City said in a statement: "Following the march, organisers have been invited to sit down with the chairman before kick-off, as stadium staff help facilitate safe and efficient entry for participants ahead of an important Premier League fixture.
"Of most importance is for a shared and positive focus to remain at a critical stage of the season.
"All at the club are fully committed to working with fans to ensure the team receives the best possible support, both home and away for our remaining fixtures."
Protest organisers have welcomed the invitation to speak to club chairman Mehmet Dalman but say there will not be enough time before kick off. They hope it can be rearranged for a later date.