Monmouthshire's flower planting plan to halt bee decline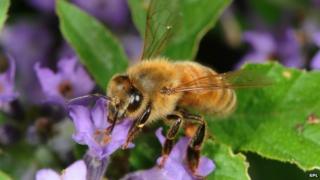 Wildflowers are to be planted in Monmouthshire to increase pollination and help reduce the decline of bees.
Some grassed areas such as roadside verges and cemeteries will also be cut less often to allow existing plants to set seeds.
Monmouthshire council said the policy would benefit the environment and save the authority £34,000.
The project is part of the Welsh government's action plan for pollinators.
A National Ecosystem Assessment Survey of 2011 found that pollinators such as bees and butterflies have been declining for 30 years.
It warned that without changes to cultivation and planting practices the situation will not improve.
Last year the Welsh government launched a plan to boost existing habitats and create new ones to slow the decline of bees and butterflies.
Bee friendly
As well as boosting the environment Monmouthshire council, which agreed the policy last week, said the scheme would reduce the use of water, plant pots and fertilisers as wildflowers need less maintenance.
It will also reduce carbon dioxide emissions by reducing travel to maintenance sites and save £34,000 on contractors fees.
And grass cutting on main roads would be checked regularly to ensure the reduced cutting times did not cause visibility problems for drivers.
Martin Jones of Bees for Development, which helped advise the council on its plan, welcomed the county's bee friendly policy.
He said it would encourage the bee population to grow and would improve the look of communities.